Alfa Aggregates are leading suppliers of green roof substrates and have been supplying substrates to green roof contractors for over 11 years. Our green roof substrates are designed to the meet the exact requirements of each project undertaken and can be customised to meet technical specifications outlined by architects and surveyors.
Many green roof projects now specify the use of substrates which blend sympathetically with the buildings' surrounding environment and ecological system. We can offer a wide range of responsibly sourced materials which can be blended to artificially recreate these environments. We also offer an extensive range of standardised substrates which can be used in a wide variety of applications.
Extensive

Extensive roofs have traditionally been the most widely used green roofing system as they provide an attractive dense covering of vegetation, which requires very little maintenance after installation. Due to the usage of extremely hardy plants such as succulents, usually sedum, they are almost completely self-supporting, requiring only a minimum of irrigation and further care.
Substrates for an Extensive system are commonly laid to a shallow depth of between 80-100mm thus making them extremely lightweight and reducing lengthy installations times.
Extensive systems can be delivered using a variety of methods. As a result they offer an ideal solution to large-scale commercial projects utilising silo tanker, and craned big bag deliveries, but also lend themselves to small domestic projects including retro fitting of existing buildings using 25ltr sacks for ease of handling.
.
Bio Diverse, Brown Roofs and Wildflower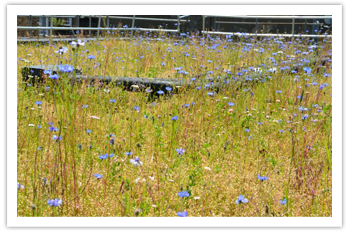 Biodiverse and Brown roofs are specifically designed to create a habitat, which is sympathetic to the surrounding environment. The concept of these roofs is to consciously provide a substrate which will benefit indigenous flora and fauna, and also create a habitat for local insect and wildlife. Wildflower meadow projects have become increasingly popular and can offer all the ecological benefits of bio diverse mixes but with the added benefit of being extremely aesthetically pleasing.
The main ethos of Biodiverse and Brown roofs is to recreate the original footprint of the building thus reducing the impact on the surrounding environment. As a result there has been a strong emphasis on the use of demolition waste and recycled materials sourced directly from site. This can create problems with the control of hazardous or damaging material. All of our substrates are strictly screened to remove any of these potential hazards and unless specified we only use seconds from the brick manufacturing industry and not demolition waste.
Due to the larger organic content and larger particle sizing of these substrates they do not readily lend themselves to silo tanker delivery, which require a free flowing, aerated mix. The most common delivery method is in big bags for crane offload, or loose bulk tipping vehicles for larger projects, 25ltr sacks are also available for smaller domestic applications.
Intensive and Roof Garden

Intensive roofs or roof gardens are, as the name suggests, higher maintenance installations which give a greater flexibility with planting options due to the increased substrate depth. These projects offer almost unlimited possibilities with regards to design and very often resemble recreational areas or public gardens.
Intensive substrate depths are usually in excess of 200mm and although the organic content is higher than an Extensive blend, making it less free flowing, silo tankers can be used, but with slightly increased pumping times.
Semi Intensive
An intermediate roof, which draws on both aspects of an Extensive and Intensive roof, providing much more varied planting options but reducing the high level of maintenance involved with a standard Intensive roof. Semi-Intensive roofs require only occasional irrigation compared with Intensive roofs and although higher in maintenance they allow for more formal roof garden environments to be created.